Anti- Aging Program/ Weight Loss and Red Light Therapy Body Contouring
Our Doctor Developed Anti-Aging Weight Loss Program works to retrain your body to burn fat without the use of Drugs, Surgery, Starving or Exercise. Instead, it is done through restoring the body to a biochemically and hormonally balanced state that is primed to burn Fat, reduce inflammation and increase energy. This program works especially well for those with significant amounts of stubborn weight to lose and have already tried countless other programs. Our program is natural, more effective and thus generally more cost effective than other commonly used programs.
Ultra Slim Body Sculpting/ Skin Tightening
Special Trial Session! $197
Non-invasive body contouring is currently the highest in-demand aesthetic treatment, caused by an Increased public awareness of the non-surgical options to reduce unwanted fat on the abdomen, thighs, buttocks, arms and chin.
We use a painless and non-invasive special type and dose of red light to shrink fat cells and produce collagen, which naturally results in smoother, younger-looking skin with reduced appearance of lines, wrinkles, and dark spots. Increased elastin works with collagen to tighten the skin, for a younger, firmer appearance. With only 32 minutes of treatment, ladies lose an average of 3.5" from their waist, hips, and thighs. Men lose an average of 3.5" from their chest and abdomen. In clinical trials recorded at ClinicalTrials.gov (NCT02867150), patients averaged 1.6 liters of fat loss at each treatment. Over 98% of patients lost at least two inches of fat at each visit, and every patient lost at least 717cc of fat at each visit (1 5/8"). Our co-founder Terry J. Ward, M.H.A. invented this unique method of instant fat reduction in 2011, while working at our body contouring clinic in Orlando, Florida. Using only phototherapy treatments, UltraSlim® is the only technology for instant fat reduction. Other body contouring technologies kill fat cells with extreme cold, heat, radio waves, or ultrasound ( ie. Cool Sculpting , Sculpsure, etc.) Those cell-killing technologies take months to show results, which are underwhelming, and risk a long list of side effects and adverse outcomes. UltraSlim has instant results and no side effects. UltraSlim devices are manufactured by Ward Photonics LLC in Cocoa Beach, Florida. The FDA has cleared the devices for body contouring (K160880) and skin treatments (K150336). The United States Patent and Trademark Office has awarded three patents and related patents are pending in 146 countries.
How Does UltraSlim® Work? We trademarked the term "UltraSlim" to describe our unique phototherapy, as heat is not part of its action mechanism. The cascading photochemical mechanism operates at the cellular level and is extremely complex: There are no needles, no incisions, and no recovery time. Our technology is based on modulating a specific type of narrow band non-coherent light. The modulated light tricks the mitochondria in the nucleus of the fat cell into creating a transitory pore in the cell membrane, allowing the fatty acids and triglycerides to escape into the interstitial space. The liberated fat cell contents are then drained by the lymphatic system and processed by the liver and kidneys as part of the body's normal course of detoxification. The pore in the fat cell will close in about 48-72 hours and the liberated contents will be expelled in the client's waste over the next few days. ® UltraSlim® Rev 11/3/17
Program Description:
First, we develop an individualized care plan to achieve your specific goals. Your care plan may include a series of UltraSlim body contouring treatments, whole body vibration, hydration, a compression garment, and nutritional supplements. We recommend that UltraSlim not be used for fat reduction more than twice a week, as some clients may be unable to void all of the liberated fat cell contents. Once weekly is preferred for most patients. In this example, the patient had five treatments, once weekly. Some patients lose more, some lose less.
A "non-invasive facelift" includes a series of 6 skin treatments (3 per week for 2 weeks) with 20 minutes to both sides of the face. Monthly maintenance treatments are recommended to retain a more youthful appearance. Phototherapy requires good general health and that the ability to process waste is not impaired. If you have liver, lymphatic, or kidney problems, or have any serious medical condition, ask your doctor before beginning phototherapy. Do not start phototherapy if you are photo-sensitive or take a photo-sensitive medication. Phototherapy is not for those who are pregnant or trying to become pregnant.
"Introducing UltraSlim to my weight loss practice, was one of the best decisions of my medical career. It's incredible to be able to offer immediate results to patients."
Ellyn Levine, M.D., Founder, Trilogy Health, La Mesa, California Obesity Medicine Specialist
"This really works. My first patient lost 6 1/4 inches in 3 treatments."
Robert H. Burke, M.D., F.A.C.S., Director of the Michigan Center for Cosmetic Surgery, Ann Arbor, Michigan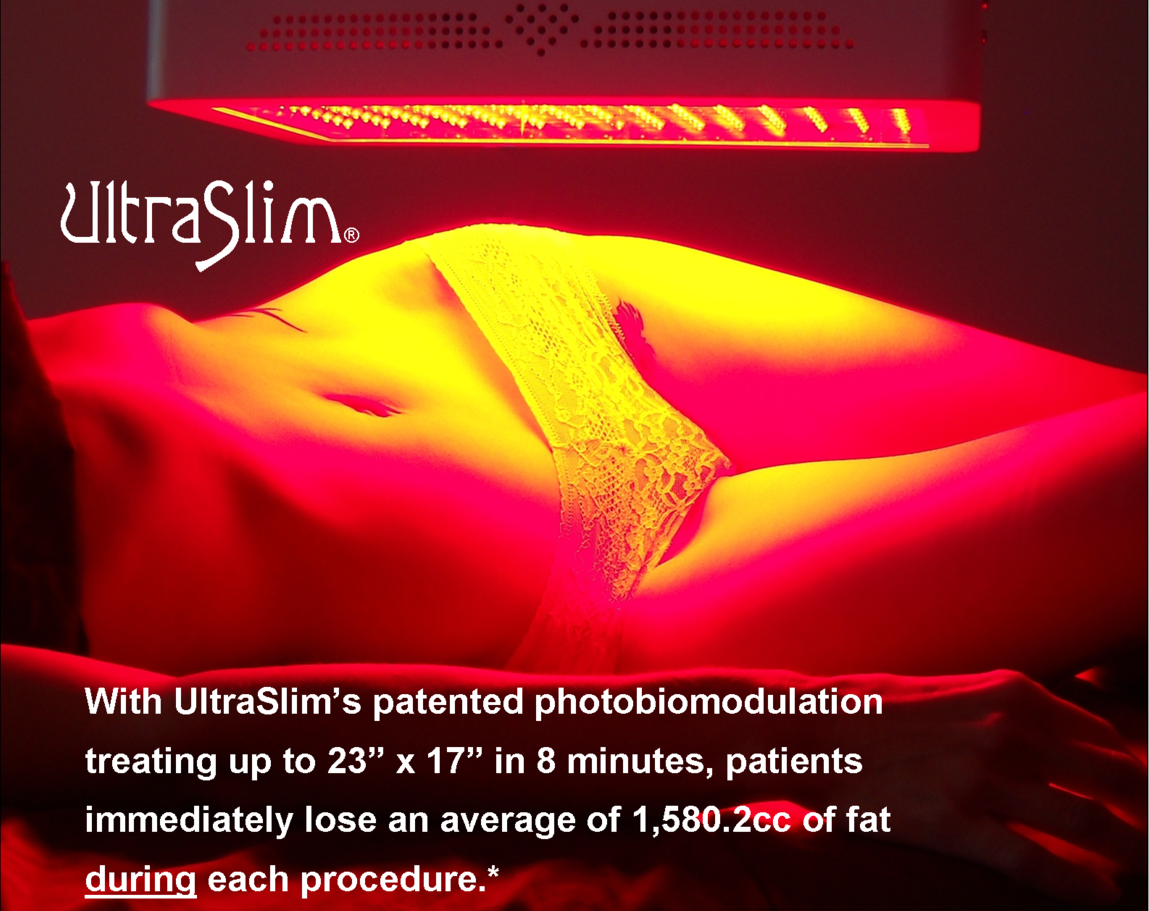 Chiropractic/ Network Spinal Analysis
Network Spinal Analysis (NSA) utilizes gentle touch contacts on the spine to shift the body from a defense physiology to growth. Defense physiology shows up as a protective posturing which causes the shoulders to tighten, head to come forward, and our breath to diminish. This posture elongates the spinal cord diminishing blood supply to the brain, specifically the frontal lobe. In the evolution of the brain the frontal lobe is the newest portion and is responsible for higher thought, consciousness, empathy, love, sense of self, and sexual desires. The lower brain centers (hind brain), which is the more instinctual part of the brain becomes responsible for our actions. In this state we are reacting to life as opposed to responding from it. Although it is a viable short term strategy for us to be instinctual and make quick decisions when responding to threatening events it is damaging in the long term. Many signs of stress begin to show up as Anxiety, Insomnia, Fatigue, Digestive issues, Headaches, Allergy and Sinus issues, Irritability and Mood Swings as well as Neck/ Shoulder/ Low Back pain. A Network Spinal Analysis entrainment (or adjustment) promotes ease in the body using the stress and tension as the fuel for shifting the body to a more healthful state of being. During this time the neurological patterns holding us in a stress physiology are broken and reorganized to appropriately respond with greater adaptability to one's present environment. This shift creates strategies in the nervous system for connecting and releasing tension which has been shown to significantly improve wellness and quality of life.
To schedule your New Patient Exam email mokshalifecenter@gmail.com
or check out the online scheduler.
The new patient exam is about an hour and covers your first 2 entrainments and follow up consultation. During this time we will perform a thermal scan and surface EMG test to see how your nervous system is currently dealing with stress in the body.
The cost is $150.
We accept PPO Insurance, Personal Injury/ Car Accident Insurance, HSA and FSA.
PEMF (Pulsed Electromagnetic Field Therapy)
The natural earth based pulsed magnetic fields (PEMFs) from the iMRS 2000 help to recharge, heal and regenerate the body in many ways. PEMF has been proven to enhance circulation, oxygenation, nutrient absorption, ATP production and detoxification all the way to the cellular level. Simply PEMF helps to get the "good stuff" into your cells so that energy can be created, then PEMF helps to remove toxins and waste products from the cells. By delivering all the essential nutrients to the cells and recharging the cellular battery, the iMRS 2000 assists the body in healing itself of almost any condition. But to be clear, it is the body that heals itself, the iMRS 2000 just gives the body the energy needed to energize, heal and recharge your 100 trillion cells and in the process helps to alleviate pain, heal the body, help with better sleep and much more. Check out page 8 for a sample of the 284 protocols the new iMRS 2000 iGUIDE system has. Introduction Since the earth has natural PEMFs and a magnetic field why do we need the iMRS 2000? While we can always go outside and lay on the earth to get these energies from the earth, over the past 500 years the earth's magnetic field has declined by over 50%. Many theorize that we are in the process of a pole reversal over the next couple thousand years. On top of that people spend too much time indoors and insulated from the earth's Natural fields. Perhaps even a bigger problem is that we also get too much of the unhealthy PEMFs or what is called electrosmog or dirty electricity. We get this from power lines, computers, cell phones, digital clocks, microwaves, T.V.'s, WiFi, blue-tooth, hair dryers, etc. These unhealthy energies block the natural frequencies from the earth that are vital for life along with disrupting cellular metabolism.
Protocols developed to support the following:
Acne, Allergies, Alzheimers, Appendicitis, Asthma, Attention deficit disorder/ Attension deficit/ Hyperactivity (ADD/ADHD),Autism, Autoimmune disease, Back pain, Cancer (accompanying), Cataract, Chronic fatigue syndrome (CFS), Cold, Crohn´s Disease, Degenerative disc disease (DDD),Dementia, Depression, Diabetes, Diarrhea, Dizziness, Earache, Fever, Fracture, Fibromyalgia, Gastro-esophageal reflux disease (GERD), Glaucoma, Gout, Heart attack, Hepatitis, Herniated discs, Hypertension, Immune system support, Impotence, Inflammation, Influenza, Insomnia, Irritable Bowel Syndrome, Low back pain, Menopausal symptoms, Migraine headache, Multiple sclerosis, Nausea, Neck pain, Obesity, Osteoporosis, Pain (acute), Pain (chronic), Parkinson´s disease, Peripheral neuropathy, Premenstrual syndrome (PMS), Psoriasis, Restless leg syndrome (RLS), Rheumatoid, arthritis, Sciatica, Shingles, Sleep disturbances, Sport injuries, Stress, Stroke, Sunburn, Tinnitus, Ulcers, Urinary incontinence, Wound healing.
"We now realize that the phenomena of chemical interactions, and, ultimately life itself, are to be understood in terms of electromagnetism." -Richard P. Feynman
NOTE: The iMRS 2000 is not intended to treat, cure or mitigate disease, rather these protocols assist the body in healing itself by enhancing circulation, oxygenation, nutrient absorption, energy production and detoxification.